The Most-Rejected Books of All Time
(Of the Ones That Were Eventually Published)
By Emily Temple
---
Tis (almost) the season for resolutions. If you're a writer, here's an idea: resolve to get rejected. 100 times this year, if you're lucky. After all, some very famous books (and authors) began their careers at the bottom of the NO pile. To inspire you to keep on writing and submitting, here are some of the most rejected books I could dig up.
Of course, this list is incomplete, and I've given preference to books that were rejected but are now well-known and widely loved. (Books that were rejected many times because they were pretty mediocre are just not as interesting.) Even with the higher-profile books, I discounted those with numbers I couldn't verify, or those that weren't specific enough—for instance, it looks like Margaret Mitchell's oft-repeated 38 rejections is a myth; Alex Haley may have gotten "hundreds" of rejections before publishing Roots, but they weren't all necessarily for the novel; ditto Kate DiCamillo's 473 rejections before Because of Winn-Dixie; Eimear McBride heard nothing but no for A Girl is a Half-Formed Thing for 7 years, but I don't know if she got ten nos or a hundred. Some authors, like Beatrix Potter and Proust, got so many rejections that they decided to self-publish—and good thing they did—but I don't have numbers on those either. If you do, give strength to your fellow rejectees and add on to the list in the comments.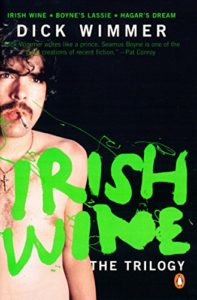 Dick Wimmer, Irish Wine: 162 rejections.
At one time, Wimmer held the official record for the most-rejected published author. Once Irish Wine was published by Mercury House in 1989. "I don't want it to be a freak of fiction," Wimmer said that year. "I would like the book to hold up on its own merits." It was widely praised, and opened the door to two sequels. But not before at least one of the sequels, Boyne's Lassie, was rejected 83 times.
More here: https://lithub.com/the-most-rejected-books-of-all-time/
THROUGHOUT HISTORY MANY FAMOUS AUTHORS TODAY HAVE AT ONE TIME OR ANOTHER BEEN REJECTED BY PUBLISHERS AND THE LITERARY SECTORS IN GENERAL…
by Alex Carter
It's hard to think that authors who have sold millions of books could ever have been rejected, but everyone had to start somewhere.
1. HERMAN MELVILLE
Melville's masterpiece, Moby-Dick, was turned down by multiple publishers, some of whom had creative suggestions for the author. Peter J. Bentley of Bentley & Son Publishing House wrote: "First, we must ask, does it have to be a whale? While this is a rather delightful, if somewhat esoteric, plot device, we recommend an antagonist with a more popular visage among the younger readers. For instance, could not the Captain be struggling with a depravity towards young, perhaps voluptuous, maidens?"
Melville nevertheless got his tale of futile revenge published—by none other than Richard Bentley, of Bentley & Son. (The American edition debuted less than a month later.) That said, the author still made some serious sacrifices, paying for the typesetting and plating himself.
2. ERNEST HEMINGWAY
The Sun Also Rises is perhaps Hemingway's most widely read work, but not everyone was a fan. In 1925, Moberley Luger of publisher Peacock & Peacock wrote to the 26-year-old author: "If I may be frank — you certainly are in your prose — I found your efforts to be both tedious and offensive. You really are a man's man, aren't you? I wouldn't be surprised to hear that you had penned this entire story locked up at the club, ink in one hand, brandy in the other. Your bombastic, dipsomaniac, where-to-now characters had me reaching for my own glass of brandy."
It's a harsh assessment—though from what we know of Hemingway, it proposes a scenario that is not unlikely either. Still, this rejection hardly damaged his career. The novel would be published by Scribner's the following year.
3. GEORGE ORWELL
Sometimes fellow writers give the thumbs down. In 1944, T.S. Eliot was working at Faber & Faber and wrote a largely apologetic rejection of Animal Farm to George Orwell that included this appraisal: "… we have no conviction (and I am sure none of other directors would have) that this is the right point of view from which to criticise the political situation at the present time … Your pigs are far more intelligent than the other animals, and therefore the best qualified to run the farm—in fact, there couldn't have been an animal farm at all without them: so that what was needed, (someone might argue), was not more communism but more public-spirited pigs."
The work was rejected by at least four publishers before making it into print in August 1945.
4. KENNETH GRAHAME
"An irresponsible holiday story that will never sell."
This might possibly be the most whimsical description ever of the adventures of Mole, Rat, Toad, and Badger in the best-selling children's tale The Wind In The Willows.
5. H.G. WELLS
"An endless nightmare. I think the verdict would be 'Oh don't read that horrid book."
Despite this editor's take on The War of The Worlds, the tale of alien invasion is still in print nearly 120 years later.
6. JOSEPH HELLER
"I haven't the foggiest idea about what the man is trying to say. Apparently the author intends it to be funny."
Joseph Heller decided to name his satirical book about World War II after the 22 rejections he received: Catch-22.
7. KURT VONNEGUT
"We have been carrying out our usual summer house-cleaning of the manuscripts on our anxious bench and in the file, and among them I find the three papers which you have shown me as samples of your work. I am sincerely sorry that no one of them seems to us well adapted for our purpose. Both the account of the bombing of Dresden and your article, 'What's a Fair Price for Golden Eggs?' have drawn commendation although neither one is quite compelling enough for final acceptance."
Sent to Kurt Vonnegut by Atlantic Monthly in response to three writing samples, this is one of the more pleasant rejection letters. Vonnegut turned the Dresden bombing account into Slaughterhouse-Five.
8. MARCEL PROUST
"I rack my brains why a chap should need thirty pages to describe how he turns over in bed before going to sleep."
To be fair, Marcel Proust's Remembrance of Things Past is 1.5 million words long, so perhaps this is a reasonable question.
9. VLADIMIR NABOKOV
"…overwhelmingly nauseating, even to an enlightened Freudian … the whole thing is an unsure cross between hideous reality and improbable fantasy. It often becomes a wild neurotic daydream … I recommend that it be buried under a stone for a thousand years."
Released in 1955, Vladimir Nabokov's Lolita saw the light of day much sooner than this publisher hoped.
10. RUDYARD KIPLING
"…you just don't know how to use the English language."
Rudyard Kipling got this response to a short story he pitched to a now-defunct newspaper, the San Francisco Examiner.
11. HUNTER S. THOMPSON
"…you shit-eating freak. I warned you not to write that vicious trash about me — Now you better get fitted for a black eyepatch in case one of yours gets gouged out by a bushy-haired stranger in a dimly-lit parking lot. How fast can you learn Braille? You are scum."
Another example of writer-to-writer smacktalk. Hunter S. Thompson sent this doozy of a rejection to his biographer, William McKeen.
12. D.H. LAWRENCE
"…for your own sake do not publish this book."
D.H. Lawrence did not take this advice, and Lady Chatterley's Lover was soon published.
13. JOHN LE CARRÉ
"You're welcome to le Carré—he hasn't got any future."
This note was sent by one publisher to another about John le Carré and his third novel, The Spy Who Came In From The Cold, which became an international best seller.
14. LOUISA MAY ALCOTT
"Stick To Teaching."
Louisa May Alcott rejected this dismissive response to Little Women. It would be published in two volumes in 1868 and 1869, and remains a classic nearly 150 years later.
15. F. SCOTT FITZGERALD
"You'd have a decent book if you'd get rid of that Gatsby character."
The rather drastic revision was suggested to F. Scott Fitzgerald about—you guessed it—The Great Gatsby.
16. STEPHEN KING
"We are not interested in science fiction which deals with negative utopias. They do not sell."
Despite this feedback, Stephen King eventually published The Running Man under the pseudonym Richard Bachman.
17. SYLVIA PLATH
"Reject recommended: I'm not sure what Heinemann's sees in this first novel unless it is a kind of youthful American female brashness. But there certainly isn't enough genuine talent for us to take notice."
An editor at Alfred A. Knopf rejected Sylvia Plath's The Bell Jar twice: first when the manuscript was submitted under a pseudonym (above) and again (below) when her name was attached to it. Her name proved to be surprisingly difficult for the editor to spell:
"I have now re-read—or rather read more thoroughly— "The Bell Jar", with the knowledge that it is by Sylva Plath which has added considerably to its interest for it is obviously flagrantly autobiographical. But it still is not much of a novel. The trouble is that she has not succeeded in using her material in a novelistic way; there is no viewpoint, no sifting out o the experiences of being a Mademoiselle contest winner with the month in New York, the subsequent mental breakdown and suicide attempts, the brash loss of virginity at the end. One feels simply that Miss Plat is writing of them because [these] things did happen to her and the incidents are in themselves good for a story, but throw them together and they don't necessarily add up to a novel. One never feels, for instance, the deep-rooted anguish that would drive this girl to suicide. It is too bad because Miss Play has a way with words and a sharp eye or unusual and vivid detail. But maybe now that this book is out of her system she will use her talent more effectively next time."Books
MORE HERE: https://www.mentalfloss.com/article/91169/16-famous-authors-and-their-rejection